What better way to kick off the first edition of Read A Ride than to read all about my newest ride which also happens to be my dream car? What car is that? Why, if you've completely missed the title, the car is none other than the 2007 Honda Jazz GD1.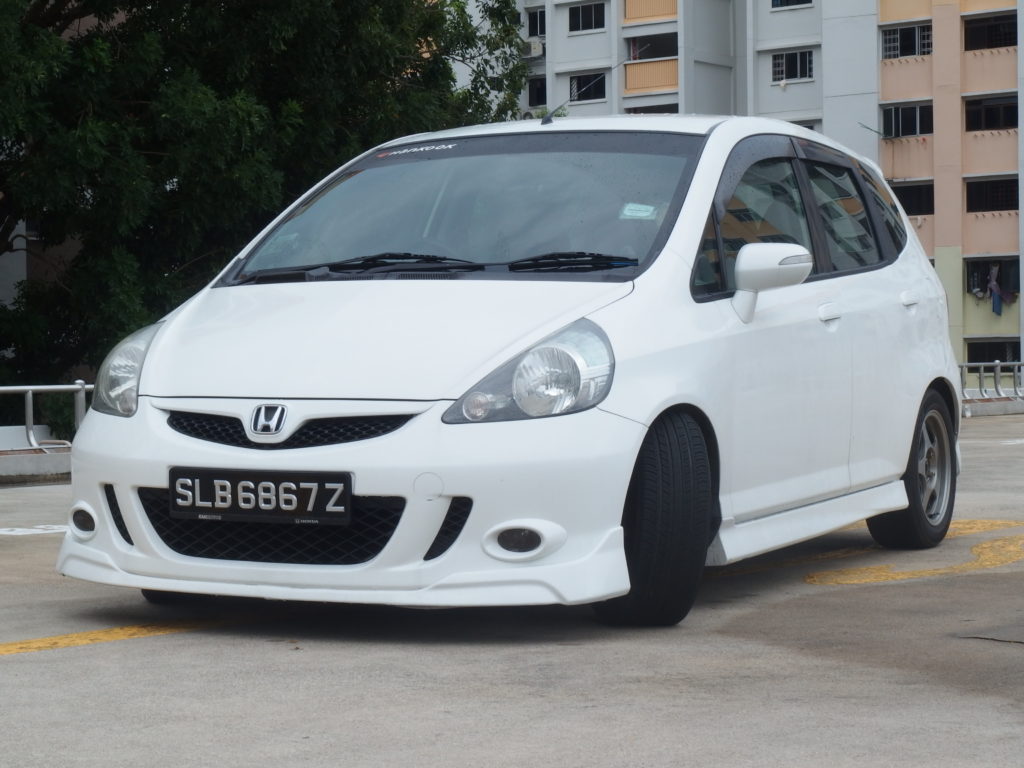 I know, people have lofty ambitions and big dreams like driving a continental car, or one that sports an engine larger than your bathtub, or one that makes pedestrian heads go like the girl in The Exorcist.
But me? I just love the Jazz.
Not the GK though. That's…just no.
The GD and GE? They're mighty fine in my books. Between black, grey and white, I settled for white like my previous car (1996 Nissan March K11). After having a couple of run-ins with black cars in heavy rain who don't seem to know how to use the front lights, I decided to go with white for visibility and safety purposes.
If they can see me, I won't die, right?
So, this Jazz sports a 1,339cc i-DSI engine with CVT putting just somewhere north of 80bhp. What the hell does that even mean? It means the Jazz is nimble around city driving and acceleration is smooth as butter. Unlike traditional transmissions with gear ratios and things that spin, a CVT does away with all that jazz and operates like a pulley system dynamically changing sizes on the go. You don't feel the gears change nor get feedback. Some may find this disconcerting but I got used to it after a day and I love it. The i-DSI engine should also net good fuel efficiency.
Keep the pedal depressed and you'll accelerate linearly till you reach your desired speed. Then release your foot from the pedal and watch the revs go down to 2000rpm. Boom, you're cruising at highway speeds while the engine purrs. That's neat.
When not laden with passengers, the Jazz responds to your pedal with unnerving ease. Thus far, I've had 2 passengers and this hatchback hasn't failed to put a smile on my face each time I get behind the wheel. It is that fun. Heck, just looking at the Jazz makes me grin like a chub getting wind of the ice cream truck round the corner.
I got this GD1 used, from a used car dealer. Fully understanding that used cars come with a whole bag of hidden surprises, I was not surprised to learn that this white Jazz does sport a nasty history–someone bumped into the rear, and the Jazz now lays claim to a rear-right structural warp. While relatively minor, the structure is intact. Will I die from it? Hopefully not.
While I'd have loved to get my hands on an accident-free car, I didn't mind at all. The engine bay looks fine. I bought the car, then brought it over to a workshop. Aside from pointing out the rear bump, the mechanics declared the car problem free.
Also, apart from my left wing mirror not retracting and my radio buttons obeying my button presses when they feel like it–one might mistake the car as new.
See, it could be my fault of not fully testing the car, pressing every button and bringing an experienced 2nd eye with me. I wanted a Jazz ever since forever and I told myself I'd own the Jazz someday. That someday is the past week.
And the week gave me approximately 12.15km/l. I'm pleased. I didn't even drive lightly.  Can the Jazz do better? Certainly. Drive in a composed manner and one should achieve the 14km/l mark. Drive with mechanical precision and hit 15km/l. Easy.
Of course, this is Singapore where traffic lights are everywhere and fuel efficiency is stomped into the ground. However, that's not so much a problem as the Jazz makes driving so fun. The previous owner added a body kit and HKS exhaust. So, not only does this Jazz look fine zipping around town, it sounds larger than life too. I'm glad the exhaust hum doesn't blow eardrums though I did consider swapping it back to stock.
So, what else is nice about this ride? The aircon's cool, there is FM radio, dashboard controls make sense, storage is plenty and I even get to lock/unlock my car remotely.
These were creature comforts not so easily gotten on my previous ride. But, that's another story.
I drive auto and that's how I like it. The Jazz sports, well, Sport and Low modes in addition to Drive, Neutral, Reverse and Park. That makes PRNDSL. "D" is what most drivers use most of the time. It makes sense to let the internals figure out the optimum ratios for maximum fuel efficiency and that's a good thing.
Low mode is handy especially when caught in the horrid, peak hour packed traffic of Singapore. Mention "CTE" and the hairs of every Singaporean driver will stand on end unless they shaved it off. I'm talking about arm hair.
I don't judge.
Low mode makes the engine rev between two and three thousand while the car creeps forward slowly under 10km/hr. This is terrific for drivers who hate to brake. Simply let the engine do the work for you. Note that the manual says L keeps the engine in gear 1.
Sport mode acts similarly but grants the car more power in acceleration and almost empowers the car with supercar status. I'm only kidding. We Jazz drivers never think that way. Jazz drivers are a certain breed. You either love or hate the look. Well alright, there's a middle ground where people buy the car as a run-around.
The flat top gives excellent headroom while the Honda Jazz (being a hatchback) grants not only good legroom for the rear passengers; it also has kickass boot space for a car of its class. That's saying a lot and that's why I love the Jazz.
And then there's the Magic Seats. Let's say that again:
Magic. Seats.
There's no magic about the seats but you've probably already read enough about them. Honda engineers are wizards and geniuses living in modern times. The rear seats can fold up or lie flat in Utility mode. Hauling large items in this car is a cinch. Laughably easy really.
I've gone on and on about what makes the Jazz so kickass. What is the downside? There has to be one. There has to be more. Yes there is. Yes there are.
Sound. Similar to my previous ride, driving down AYE is not music to anyone's ears. Road noise is gnarly until you drive onto the MCE. Whoever paved the MCE roads should get a medal bestowed by the God of The Roads.
And, the rear seats could certainly feature the GE versions with its push down and popup headrests. That is clever design. Anyone with the GD seats will know how the headrests must be removed to fold the seats flat. Otherwise, they block rear visibility.
But you know what? I love the Jazz. Could it be the car that I hope to drive for another 5 to 10 years? Yes and only if I take good care of it. I really do think the GD1 is a worthy contender of being driven for a long while.
Just thinking about it still puts a silly grin on my face.