This is the Nissan March K11. Look at it.  Look at the car from yesteryear. Take a good long look at this tiny car that can take 4 adults and haul them around Singapore.
Nevermind that the car has only a 1 liter engine. The March was my first car I bought after scouring the web for months in late 2015. Primarily used for work purposes, I got this car with only 4 months left on the COE.
What?
Yes, I was the proud owner of this white March after having it change hands 9 times. Suffice to say, the March has seen some stuff.
What? I hear you say again.
You thought I was going to say "shit"? Of course not. You know better.
And you know what they say about cars with small engines? I don't know. But,  the March will get you from A to B in relative comfort and that's about it. You will hear cars and motorbikes whizz by you on the highway. Lorries will shake your car and gusty side winds make their presence not only heard, but felt.
In thunderstorms, the March will keep you dry and aurally assault you at the same time for there is nothing quite like the rain pelting the roof as a friendly reminder to look where you go. If you ever so much as take your eyes off the steering wheel, you will veer off course. So, take heed.
And take heed I did.
Now, purchasing this March was not only a lesson on the car buying procedure. It also opened my eyes into owning a car that has changed more owners than the number of times I said "shit" in this Read A Ride.
Don't count.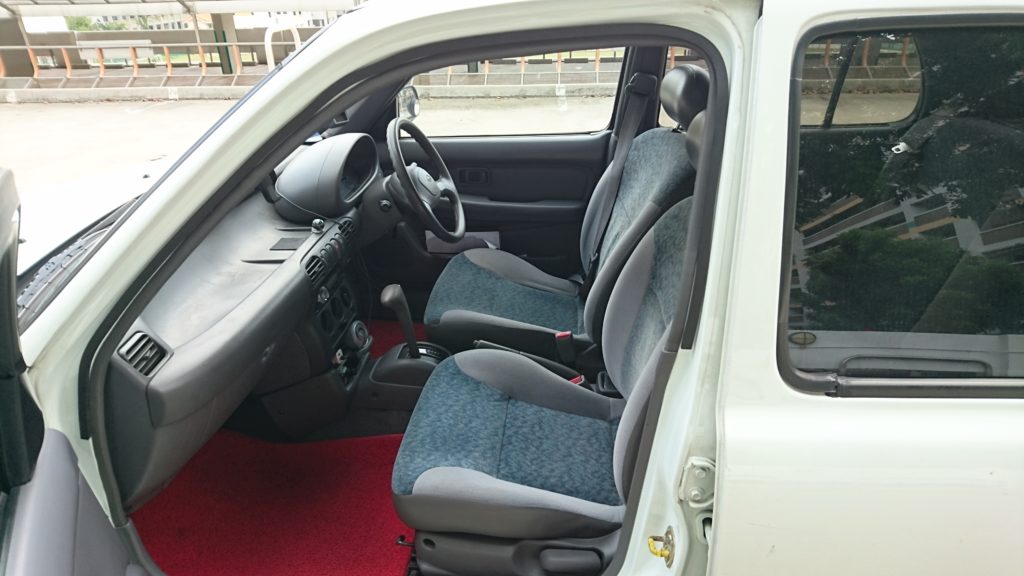 The seats remind you why you stay in a 3 room HDB flat. Your butt sinks in and makes a nice, reassuring "plop". Mmph. They also remind me of bolsters stuffed to the brim with cotton. Yet, they're not too soft that your butt gets swallowed. I like that.
Next, the rear passenger seats are basically a bench. There are no 60/40 split seats. In the time I drove the March, I've not needed to fold the rear. Then again, hauling large items in the March probably isn't a good idea at all–folded seats or not.
It also helps that there are no headrests in the rear that jut out. This gives the March excellent rear and all-around visibility.
I give 3 thumbs up for that.
The owner(s) added a rear spoiler and sporty rims. I like 'em too. Driving the March around town does yield you looks at times. You don't blend in with traffic. You jut out in a non-obtrusive manner. People know you don't belong to this era yet they allow it. Because the car is LTA and Vicom certified. Also because of season parking tags on the windshield, so take that!
Oh, and the engine bay smokes when idling especially at traffic lights. Probably explains why people look. I joked to my friends that they'd smell me before they see me.
This is a common problem reported by K11 owners worldwide and even the salesman informed me of the problem as well. Tubes don't seal as well over the years. I'm glad it didn't compromise safety and is the reason why this Read A Ride exists.
But, that's what we get for buying a really used car with signs of wear and tear all over. The tailgate must be operated manually–as is the hatch over the fuel cap. Somewhere along the chain of ownership, someone had the bright idea to install a zip-tie to open the fuel hatch.
He's a damn genius even if the car loses all its street cred. Nobody buys this Nissan March for cred right? I'm not even talking about the modern 1.4 version.
While all cred goes out the window, the rear hatch must also be operated manually; especially a hassle when stopped for security checks. You have to stop the engine and get out of the car to open the rear hatch. This is an issue with this vehicle as the lever mechanism broke.
Good thing nobody really stops to check this vehicle. No terrorist would be caught dead driving a March too sluggish to nip around buildings and too slothy to lug around deadly WMDs. When time is of the essence, don't march.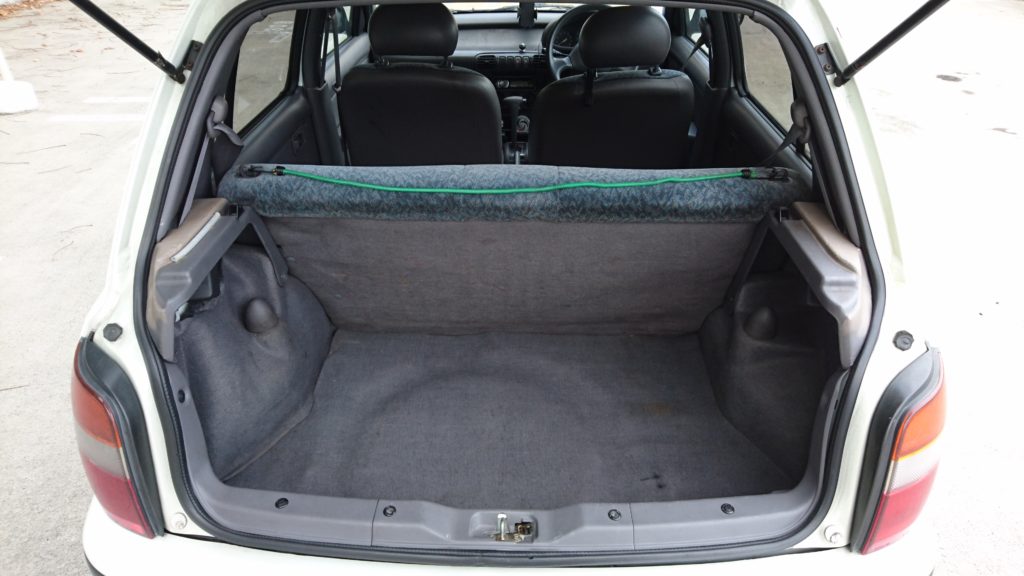 Still, the Nissan March is a joy to drive. Its 1 liter engine won't lay claim to being zippy but it will let you know its trying. I keep my boot empty and carry the bare minimum of stuffs and even going up the Mandai > BKE merge lane was a gargantuan task. Can you imagine ferrying around a full load of living beings?
That, I did. Still, the March complied.
Is it slow? Well…
Does it run? Yeeea…
Should you do that every day? Nay.
So, for a small Japanese hatchback with a tiny engine, how's the fuel efficiency like? The answer is to travel extensively on the highway where you go to be frugal. I got 12.5km/l at best, and 9km/l at worst. But see, a car like this doesn't mind going at a steady pace. If you can plan your trip carefully, consult the God of The Roads and have him make you see green lights everywhere, that's a good start.
Of course, one could better those figures easily. Consider that this is a car almost 20 years old with wheels that have gone over 300,000 kilometers and you'll see that's quite the distance for this hatchback.
Driving the March instilled in me patience and taught me how to plan road trips from my home to the local market.
Something simple like lane filtering requires extensive thought and meticulous planning. Think you can filter safely into lane 1 on the PIE in peak hour traffic? Think again. When you finish number crunching in your mind, check the rear and side mirrors then slam the pedals and pray to the God of The Roads that you are alive in lane 1.
Every uphill and slope further tests your mettle as a driver. Couple that with the fact that I hate braking and you will develop ninja-like reflexes in pedal mastery. This is no ordinary automatic.
Alas, the car has since been scrapped when its COE expired 30th April 2016. I will always remember you and your wonky radio buttons that don't work perfectly, your aircon vents that can't be turned off and the creaking sounds when I step in and out the vehicle.
March on my friend, march on. You'll live on in my Jazz sans engine fumes leaking into the cabin.